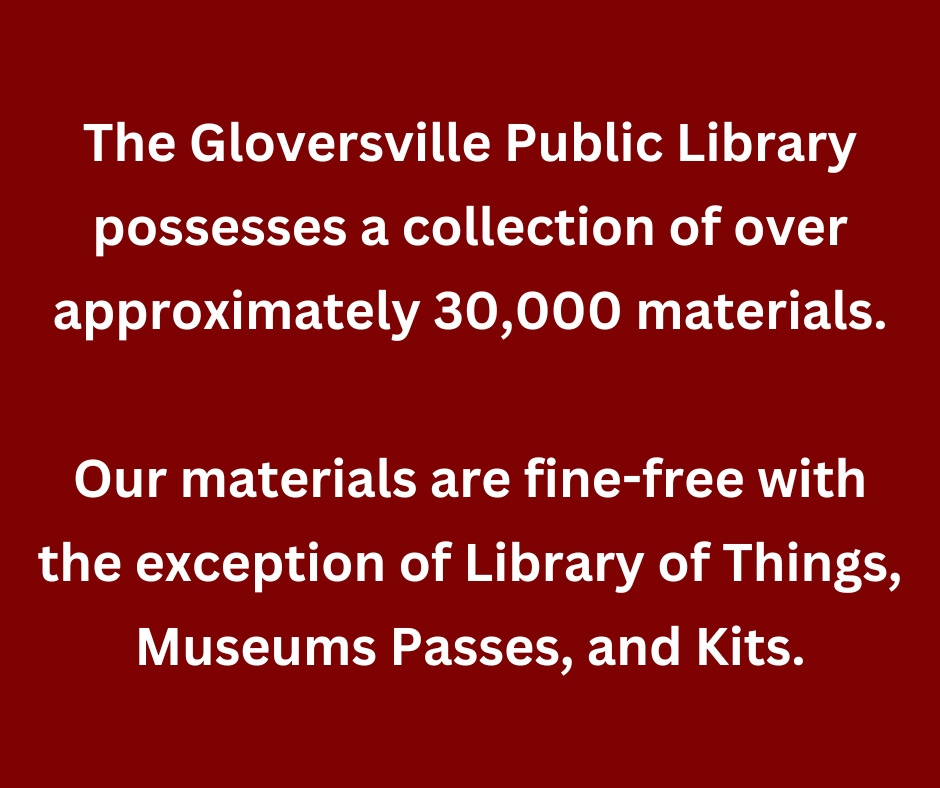 Loan Periods
1 Week
2 Weeks
4 Weeks
DVDs, Games, Library of Things,
Magazines & Museum Passes
New & Popular Fiction

eMaterials

Most books
Books & Media
In Adult and Teen, we have Fiction, Large Type, Non-Fiction including biographies, Graphic Novels, Audiobooks, DVDs, and holiday music CDs. Most recent additions are located in our New & Popular collections.  Rotating collections for Teen Fiction, Graphic Novels, and Large Type help supplement the collection and change every few months.
In Youth services, we have our Early Literacy Room with Board Books, Picture books, and Early Literacy Kits. The rest of the collection includes Easy Readers, Juvenile Non-Fiction, Juvenile Fiction, Juvenile & Easy Reader Graphic Novels, Juvenile DVDs, and Braille children's books. Rotating Juvenile Fiction and Juvenile Graphic Novels help supplement the collection and change every few months.
Games
Check out a treasured classic or find a new favorite! A collection of over 30 Board and Card Games including Chess, Connect 4, Guess Who, Bananagrams, Settlers of Catan, Scrabble, Monopoly. Must be 13+ and have an Adult/Teen library card in good standing.
Graphic Novels
Our Graphic Novel collection is combined for Adults and Teens 13+. From manga to memoirs, classic literature adaptations to cookbooks, superheroes to science fiction, we have something for everyone.
Library of Things
A collection of items from playful to practical, including a birdwatching kit; fishing poles; portable car jump starter w/ air compressor; portable speaker with microphone; sewing machine; stud finder, laser level, and laser measurer kit; telescope; wifi hotspot; and more! Must be 18+ with a valid ID and library card in good standing to borrow. 7 day loan period, non-renewable, can be held for pickup. Limited to one Thing at a time. $5 per day fine.
Local History
The mission of our Local History Room is to collect, preserve, share, and make available to the public items that are pertinent to the history of Gloversville, Fulton County, the Mohawk Valley Region, and the Capital District of New York State. The collection includes cemetery records, city directories, atlases, yearbooks, microfilm, and much more. Limited hours available. Please call ahead or email gpllocalhistory@mvls.info to schedule an appointment.
Lucky Day
A collection of high demand materials waiting for a lucky person like you to walk in and check them out! No holds, no waiting.
Magazines & Newspapers
Current issues of local and national newspapers. Over 20 magazine titles available.
Memory Lane
A special collection of materials geared toward those living with dementia or other memory impacting conditions, their caretakers, and their families.
Seed Club
Paired with the Library Garden, our Seed Club encourages people to reconnect to the traditions of growing their own food and to experience the joys of gardening by offering free seeds to members of our community. We have over 20 different types of seeds available, organized under the 3 broad categories of Herb, Flower, and Vegetable. Everyone is welcome to "borrow" seeds; library card not required. Stop by the Information Desk to register and find out more!